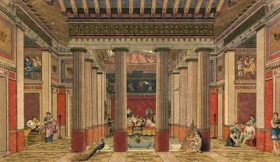 "I've been constantly concerned about human actions...
not to mock them, not to pity them...
nor hate them,
but only to understand them"
(Spinoza, Tractatus politicus I, 4)
The Pontifical Council for Culture promotes the encounter between the saving message of the Gospel and the cultures of our time, often marked by non-belief and religious indifference, so that they may be increasingly open to the Christian faith, creator of culture and inspiring source of science, literature and the arts (Cf. Motu Proprio Inde a Pontificatus, 25 March 1993, Art. 1). It manifests the Church's pastoral solicitude in the face of the serious phenomena of fracture between the Gospel and cultures, promotes the Church's and the Holy See's relations with the world of culture, taking initiatives concerning dialogue between faith and cultures as well as intercultural dialogue and following those undertaken by the various institutions of the Church. Finally, it offers its collaboration to the corresponding bodies of the Episcopal Conferences.
The Humanities Department presents itself as a centre of research and study with wide-ranging interests. It places at the centre of its investigation the human person, existence, all human cultural manifestations, in humanity's present and historical becoming, and in human formation marked and inspired by an authentic Christian humanism.
Its horizon of activity can be defined in terms of anthropology articulated through philosophy, literature, mysticism, economics (as a humanistic choice in its deep sense of the law of the house of the world), art (with a focus on cinema and art criticism), universities and academic realities, mass-media, history and sociology. These are the areas that emerge most clearly at the moment, without neglecting theology, aware that "God is always present in the human. He became so the first time, in fullness, in the incarnation of the Word, but He is also present in the traces He leaves in the human" (Pope Francis at the end of the Spiritual Exercises of the Curia, 2019).
This is a constellation of specific themes and, at the same time, transversal to other Departments of the Dicastery, linked to the action and mission of the Church in the cultures of the contemporary world. It is a fundamental path in the current historical context where there is no clear and shared formulation of anthropology (and of person), but it is predominantly mobile and fluid.
The physiognomy and the objective of the Department are to be a laboratory of ideas, a site of new stimuli, in cultural events, to reflect on crucial issues concerning mankind, so that the voice of the Holy See, through the Dicastery, reaches the cultural debates of our time.