The Failure of Perfection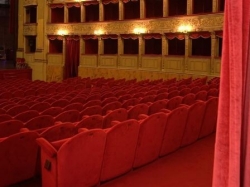 Teatro Argentina
Rome – Teatro Argentina – Monday 27 May 2013 at 8.30 PM
Cardinal Gianfranco Ravasi, President of the Pontifical Council for Culture, the Philosopher Massimo Cacciari, the Journalist Federico Rampini, the Writer Nadia Fusini come together to dialogue on a burning contemporary theme: Failure and the desire for Rebirth. The meeting moderated by the journalist Monica Maggioni, discusses a theme which today can be interpreted on several existential fronts, and has as an ideal and perhaps paradoxical interlocutor, some texts of authors of the mystical tradition: Angelo Silesio (actual name Johannes Scheffler, 1624-1677), Jean-Joseph Surin (1600-1665), Dag Hammarskjöld (1905 – 1961).
It is not easy to be happy, to realize oneself, and it is also true that in this world there are many reasons that lead a person to curse, in comparison to those that lead him to bless. In fact, if we were to consider things from a radical point of view, we would all be failures, because ruin is inherent in human matters. And this happens not simply because there is an insurmountable boundary for our actions and our thoughts, which is represented by the death. Therefore, failure should be interpreted more correctly as a crisis, as a perennial transformation from an equilibrium which was existing and the one that is not yet there. Ennio Flaiano when he was asked if we were living in a period of transition, would answer in the affirmative. But would always add: 'As always the rest'.
In fact, the more complex issues demand, in order to be properly dealt with, an inner tension that comes from silence and from listening; from the availability to evaluate things with a serene detachment that, far from creating indifference, makes possible an original involvement, which this evening addresses.